Pumps and cyclones
Clever separation of solids

Hydrocyclones for solids separation
The selection of plants for the refinement of sand and gravel or for water recovery is primarily oriented towards the aggregate. In addition to the fractions, the locations and operating conditions are decisive for the respective selection of the plants. Hydrocyclones are used as stand-alone units or as part of a complete plant for refining sand and gravel. They also play a decisive role in water recovery in gravel plants.
It goes without saying that STICHWEH hydrocyclones are used with the appropriate pumps. These convey the material to be classified/separated into the hydrocyclones with the necessary pre-pressure.
Info: STICHWEH offers spare parts for the GP pump range from Weir Minerals (formerly Warman): Main wear parts from stock.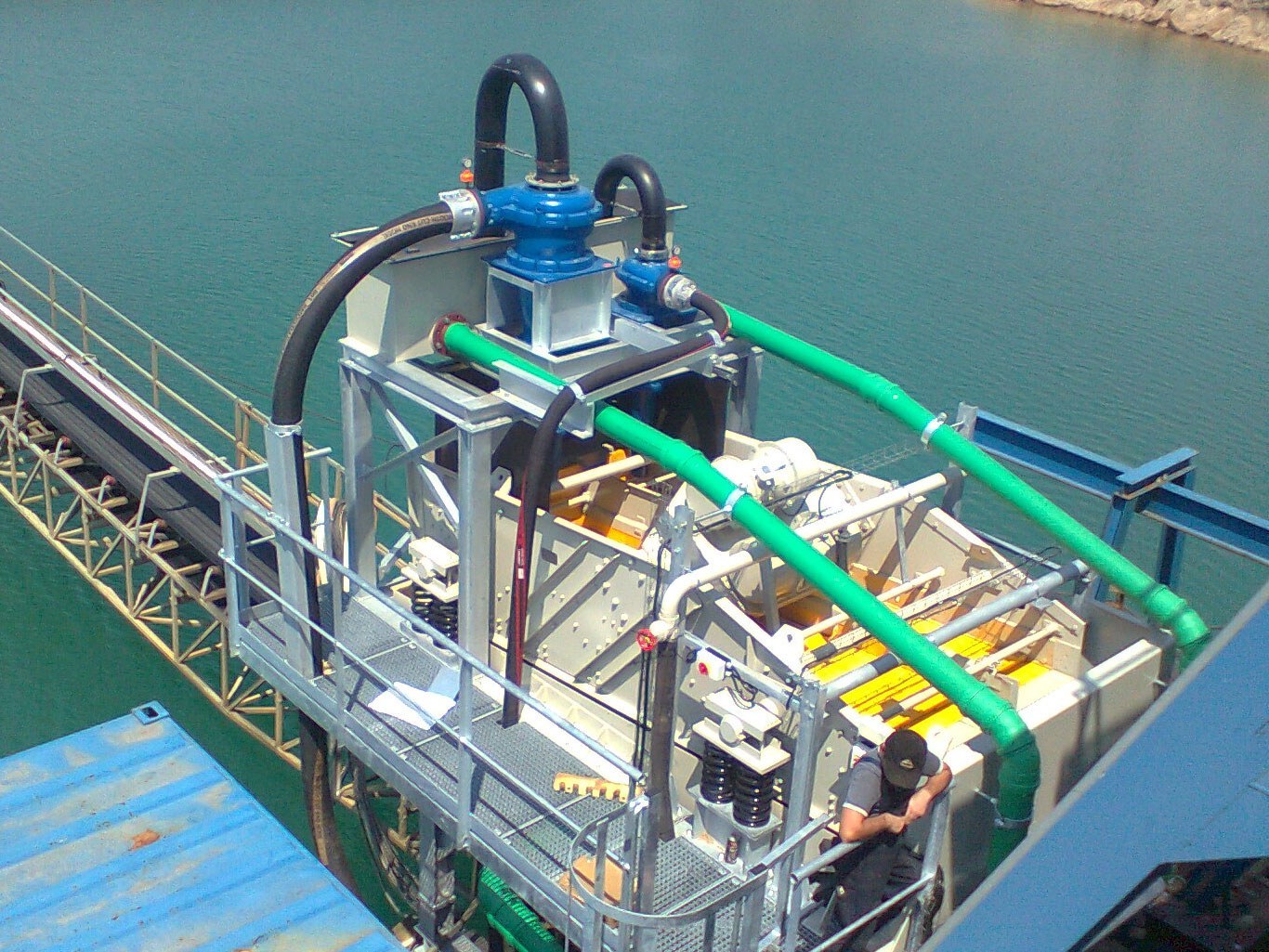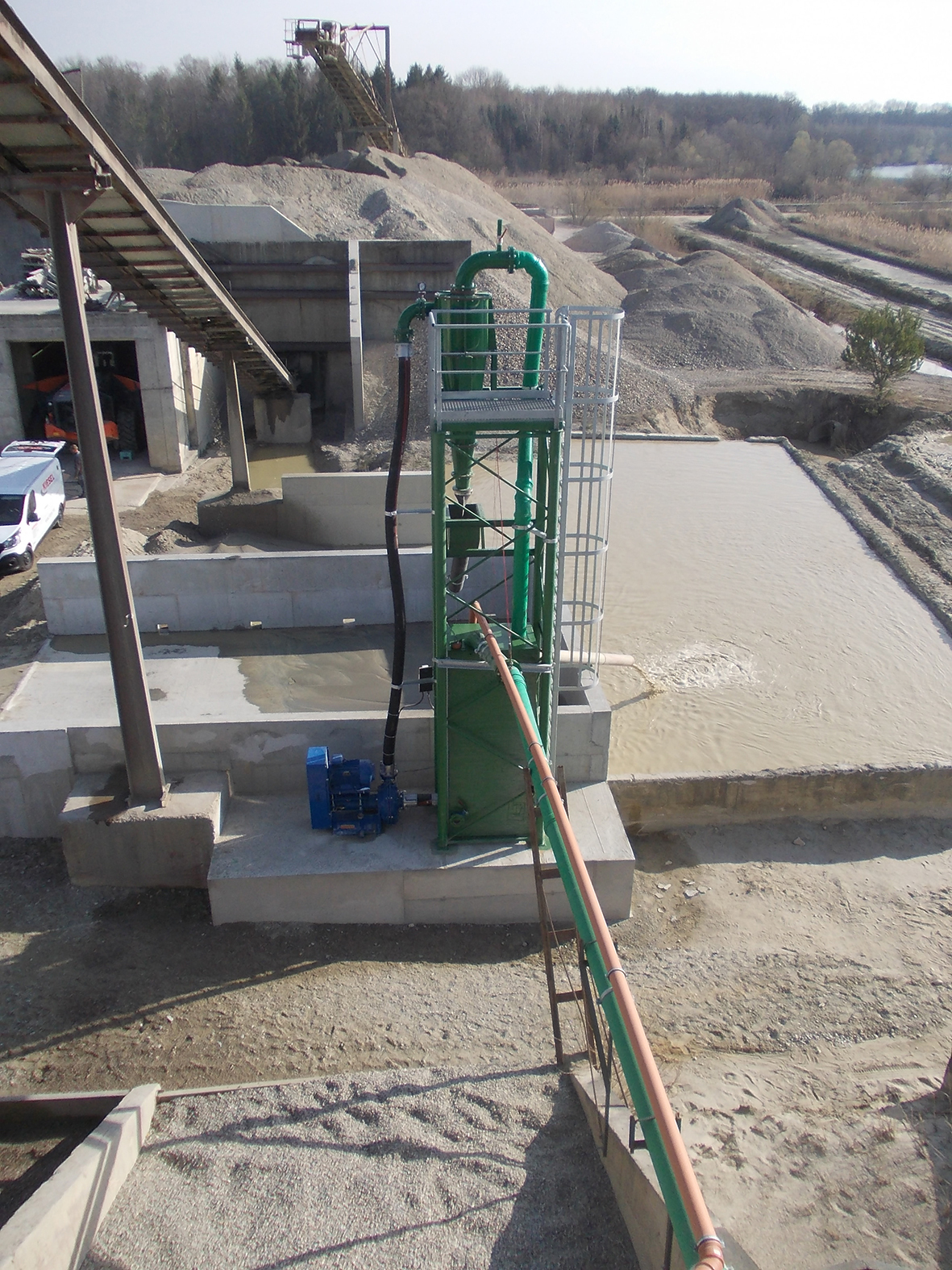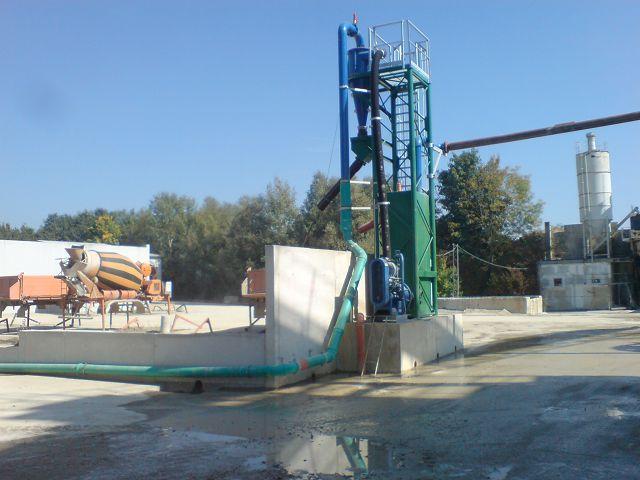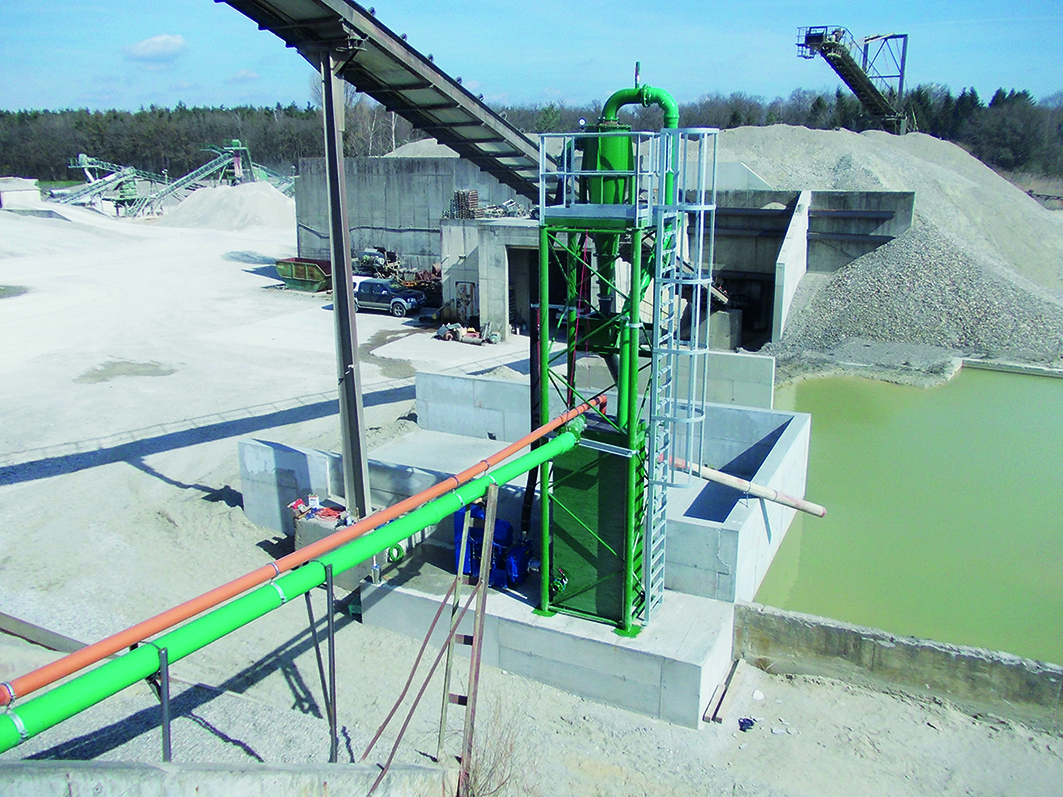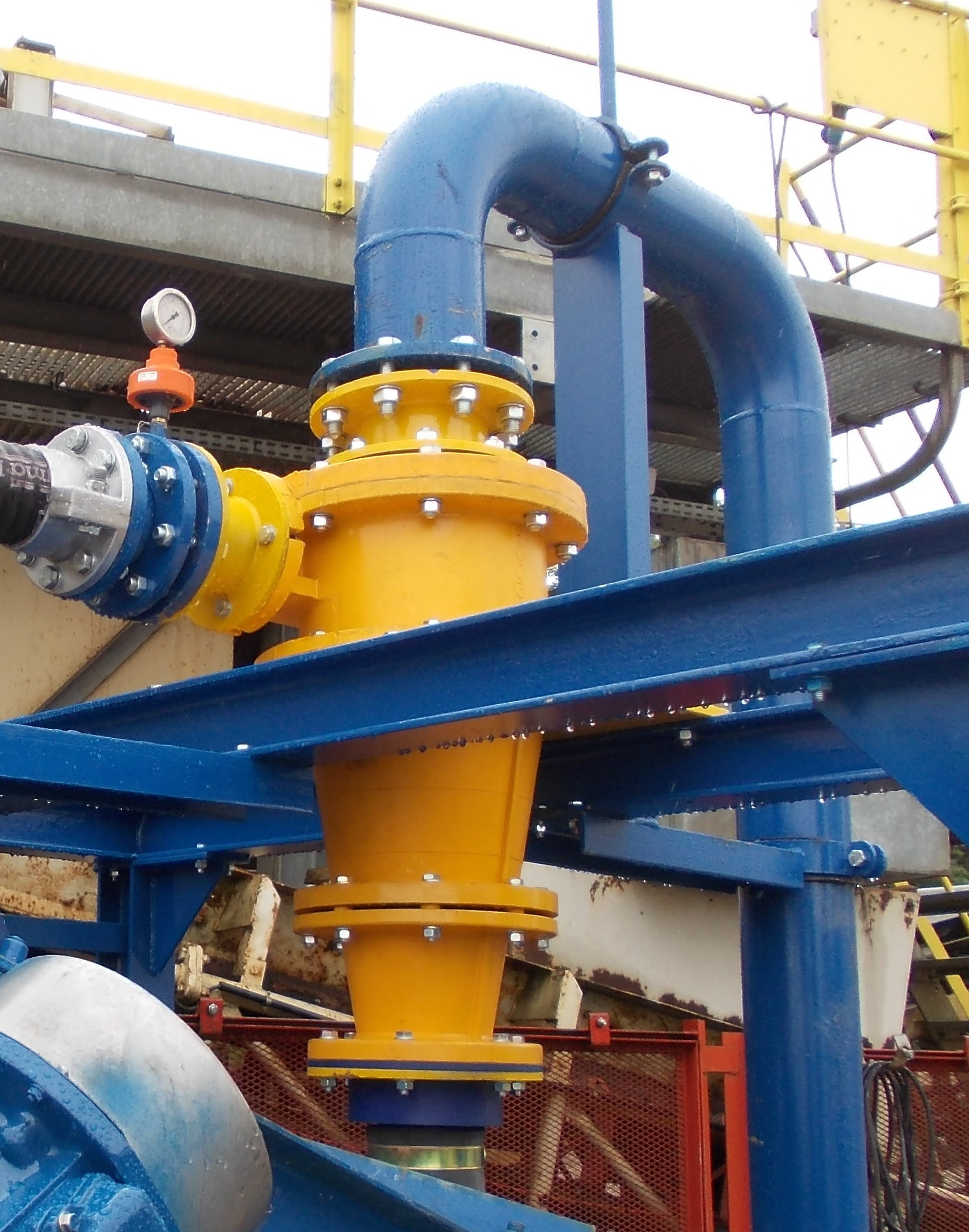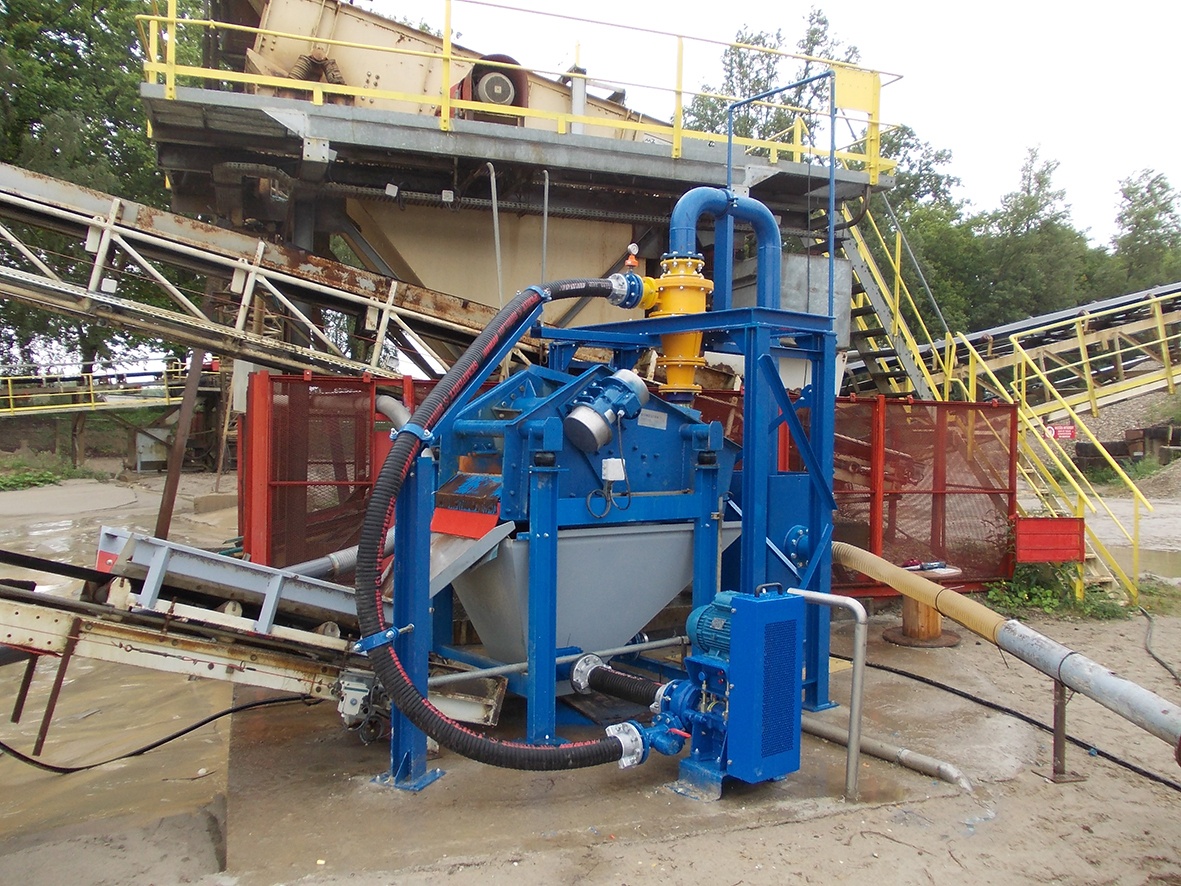 Classify selectively
Hydrocyclones enable the separation of fine and ultra-fine particles. STICHWEH hydrocyclones enable the efficient recovery of recyclable raw materials from the wastewater of treatment plants. They are convincing due to their small space requirement and their low weight, especially when integrated into buildings. Hydrocyclones achieve a separation cut of up to 10 µm.
Perfect interplay
Hydrocyclones are used for the refinement of sand and gravel as soloists or in interaction with scoop wheels, screening and setting machines:
In interaction with scoop wheels and hydrocyclones.
The coarse sand is dewatered and discharged by the scoop wheel. The wastewater from the scoop wheel or partial quantities of the wastewater are then separated with the cyclone. Only small quantities of mixtures and solids are fed to the cyclone. This has a favourable effect on wear and energy consumption of the pump (cyclone unit).
In the interaction in screening machines and hydrocyclones
In the washing and screening process, a water-sand mixture is obtained at the last screen deck. If this cannot be separated by means of a scoop wheel, we recommend the use of a cyclone here. The cyclone separates the usable solids from the water and carries them out. The waste water from the cyclone is then discharged on site.
For water recovery
To enable gravel plant operators to clean their washing water and return the clear water to the washing circuit, STICHWEH offers fine sand scoop wheels and hydrocyclones for fine sand recovery - individually or in combination - depending on the dimensions and requirements. Both thus provide an important preliminary stage for wastewater treatment systems. Because these also function most effectively when the smallest sand particles have been removed in advance.
Solid-liquid separation - this is how it works:
The material (solid-water mixture) is fed into the cyclone laterally (tangential inlet) and under pressure.
The pressure and the tangential inlet set the mixture into a rotating motion. The solids slide along the cyclone wall by centrifugal force into the underflow for removal.
A vortex forms in the centre of the rotating liquid, allowing the liquid with the non-separable substances to escape through the overflow. A defined separation cut is achieved through the designed layout of the system.