I WANT A STICHWEH!
Quality and competence from Lower Saxony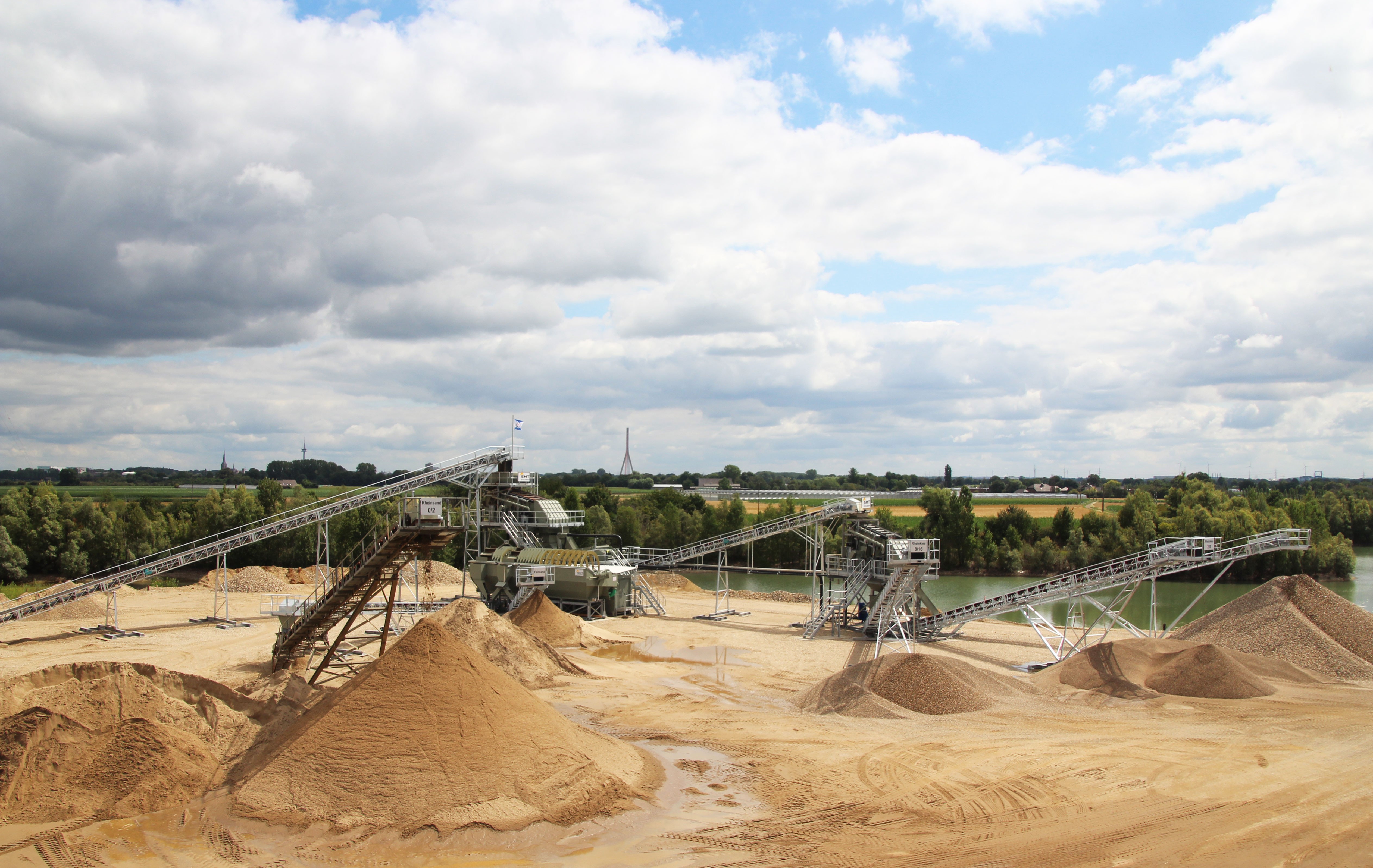 STICHWEH plant technology and processing systems
With this quality statement, many national and international customers approach us to successfully implement their projects in the stone and earth industry.
We are regarded worldwide as experts in plant technology and processing systems for the stone and earth industry: from sand and gravel extraction to mining and professional classification.
to professional classification. In order to be able to offer these services efficiently and sustainably even under the most difficult conditions, we rely on the highest quality standards.
Construction
Every operation for the extraction and classification of raw materials has its own specific requirements in terms of extraction conditions, material properties and performance objectives.
Our design department takes these on board and creates a concept on this basis, which is then put into practice.
Further development and repair
As all technical documentation for the machines is available at STICHWEH, further developments, retrofitting and restructuring can be carried out from a single source.
Equally important is the availability of documentation and data in the event of spare parts and repairs.
Service and installation
STICHWEH fitters, who are deployed worldwide, play a decisive role in the implementation. They work on call directly on site and ensure that the delivered units or
complete systems run perfectly.
Our quality promise:
We stand for performance:
Just in time.
Just in place.
Just full service.
With our partnership "Europe promotes Lower Saxony", we benefit from the transfer of knowledge and technology within the European Union in order to secure sustainable competitive advantages for the future.
Snoby Separation Systems and STICHWEH are leading suppliers of aggregate processing equipment and plants. From start to finish, we bring a blend of academic and field experience to your process solution, including lease options.
Our sustainability promise
Against the backdrop of accelerating global change, we all have an obligation to systematically find ecological and social solutions in order to fulfil our responsibility to society as a whole. That is why we pursue the viewpoint: performance and sustainability must be combined.
That is why we have developed the STICHWEH BIG FIVE , which show the attitude but also the developments on which our sustainability commitment is based.
1. Maschinen-Verantwortung

For us, this means: We pay attention to the responsible use of machines in our projects: with as few emissions as possible and integrated into the infrastructure of the respective project in the best possible way.

This also includes the re-use of our machines as used machines and the resource-saving handling of spare parts.

Average service life of a STICHWEH scraper: 40 years in two-shift operation.
The majority of STICHWEH machines continue to be used as second-hand machines.
The delivery of spare parts is not only just in time, but also sustainable in terms of handling.
We have many long-running parts in house and carry out repairs directly on site.
We can produce new parts directly on the basis of existing drawing templates.
2. Herstellungs-Verantwortung

Design, construction and assembly of the customised machine services are provided from a single source and not via individual suppliers. Our machines are planned and built centrally in Thüste. This enables us to ensure responsible raw material processing and supply chain.

Raw material efficient handling in the development of scrapers
Central manufacturing: design / construction / assembly from a single source
3. Ökologische Verantwortung

Less is more. We continue to develop the technology and design of our machine solutions according to this principle: less energy consumption, less water consumption, less emissions. Our claim: We support gravel pits in operation to function as sustainably as possible and to continue as a nature reserve after operation.

Waste water treatment
Low-emission drives
3 Generations Leimig gravel pit (Link Best Practice)
4. Gesellschaftliche Verantwortung

Part of our principle of responsibility is our safety system. From design to assembly to commissioning, we ensure machine safety and quality. The result: long-lasting constructions and the decades-long average time of STICHWEH machine use.
5. Mitarbeiterverantwortung

As a regional employer, we stand for diversity and equal opportunities. As a training company, we also want to secure and expand the future for the region. We stand up for this together with other companies in the Industrieverein Alfeld-Region e.V..

Diversity and equal opportunities
Occupational safety and health
Regional employer
Milestones
2022 Scoop wheel no. 1000

On 28 November 2022, the thousandth STICHWEH bucket wheel went to North Rhine-Westphalia, where it will be used by the gravel pit operator Heinrich Schmitz GmbH for washing and dewatering raw materials and building materials that are important for the region.
2021 Sustainability

The STICHWEH BIG FIVE were developed as part of the STICHWEH sustainability campaign "Kiss the future". These show the attitude but also the developments on which STICHWEH's commitment to sustainability is based.
2019 100 YEARS OF STICHWEH

Stichweh celebrates its 100th anniversary in 2019 under the motto "Heavy Birthday! What began shortly after the end of the First World War as a locksmith's business for the repair of agricultural machinery, among other things, has grown consistently over the decades to become today's internationally successful supplier of plants for the extraction and refinement of sand and gravel.
2015 Modernisation

STICHWEH is continuing its ongoing modernisation process: this includes the acquisition of new production equipment, the expansion of internal structures and processes, and the investment in sustainability through the construction of a photovoltaic system with 67 kWp.
2005 - 2014 Expansion

Further development of STICHWEH into an internationally expanding company with branches worldwide: 2005 foundation of STICHWEH LLC USA.
1994 Export

75 years after the company was founded, STICHWEH has delivered more than 1000 scraper plants, 600 scoop wheels and 100 sand and gravel processing plants to numerous European and non-European countries.
1990 Digitisation

The design and creation of workshop drawings has been completely switched to high-quality, extremely powerful CAD computers.
1960 – 1980 Internationalisation

STICHWEH products also have a good reputation in other European countries and overseas. Machines are exported to Austria, France, Yugoslavia, Denmark, Canada, the Netherlands, the USA and other countries. The largest scraper KS 1000 with a bucket capacity of 10 mᵌ was delivered to Denmark in 1978.
1965 Economic miracle

Up to 40 scrapers are sold a year and the number of scoops sold increases from year to year. The company grows. Construction of today's Hall V and the administration building on the factory premises.
1962 First scoop wheel

To solve the dewatering problem when conveying gravel and sand, STICHWEH develops bucket wheels. The constantly growing demand and the new development of larger bucket wheels, especially for suction dredgers, ensure the expansion of the entire STICHWEH portfolio.
1955 Power expansion

A powerful machine factory grows out of a craft business. The first trade fair appearance was at the Bauma in Munich. Halls II, III and IV are built in the following years.
1945 New start

From old stock, father and son build a factory for the production of machines for sand and gravel works. Hall I is extended and the first modern machine tools are purchased.
1919 Company formation

Fritz Stichweh founds a company in Thüste on 1 May for the manufacture and repair of machines for agriculture and the surrounding industry.

Production of grinding plants, washing and sorting plants as well as transport plants for lime, coal, stones and sand.

The first scraper plants for gravel extraction and machines for processing are delivered to the Wolfsburg area for the construction of the Volkswagen factory.

Fritz and, 5 years later, his younger brother Walter join their parents' company.

With the simplest of means, repairs are carried out for agriculture and the surrounding industry in order to supply the population with the bare necessities.