Bucket wheels

The world's largest scoop wheel programme
Washing and sizing are therefore among the most important phases in their preparation. Coarse-grained material is already cleaned of impurities during screening. For fine-grained material such as sand or grain mixtures, special washing, dewatering and recovery plants are required. The STICHWEH washing and dewatering scoop wheel is used specifically for this purpose.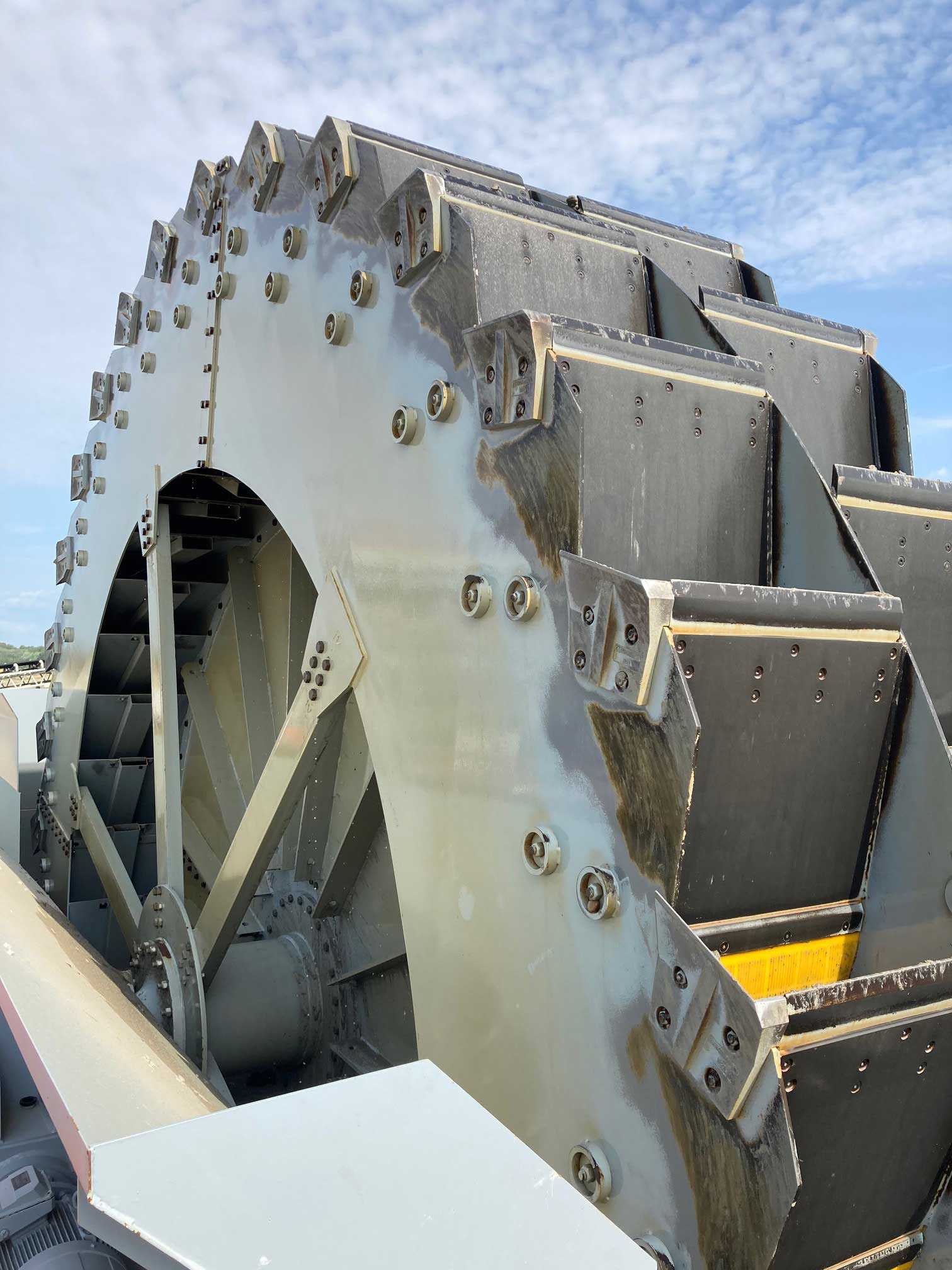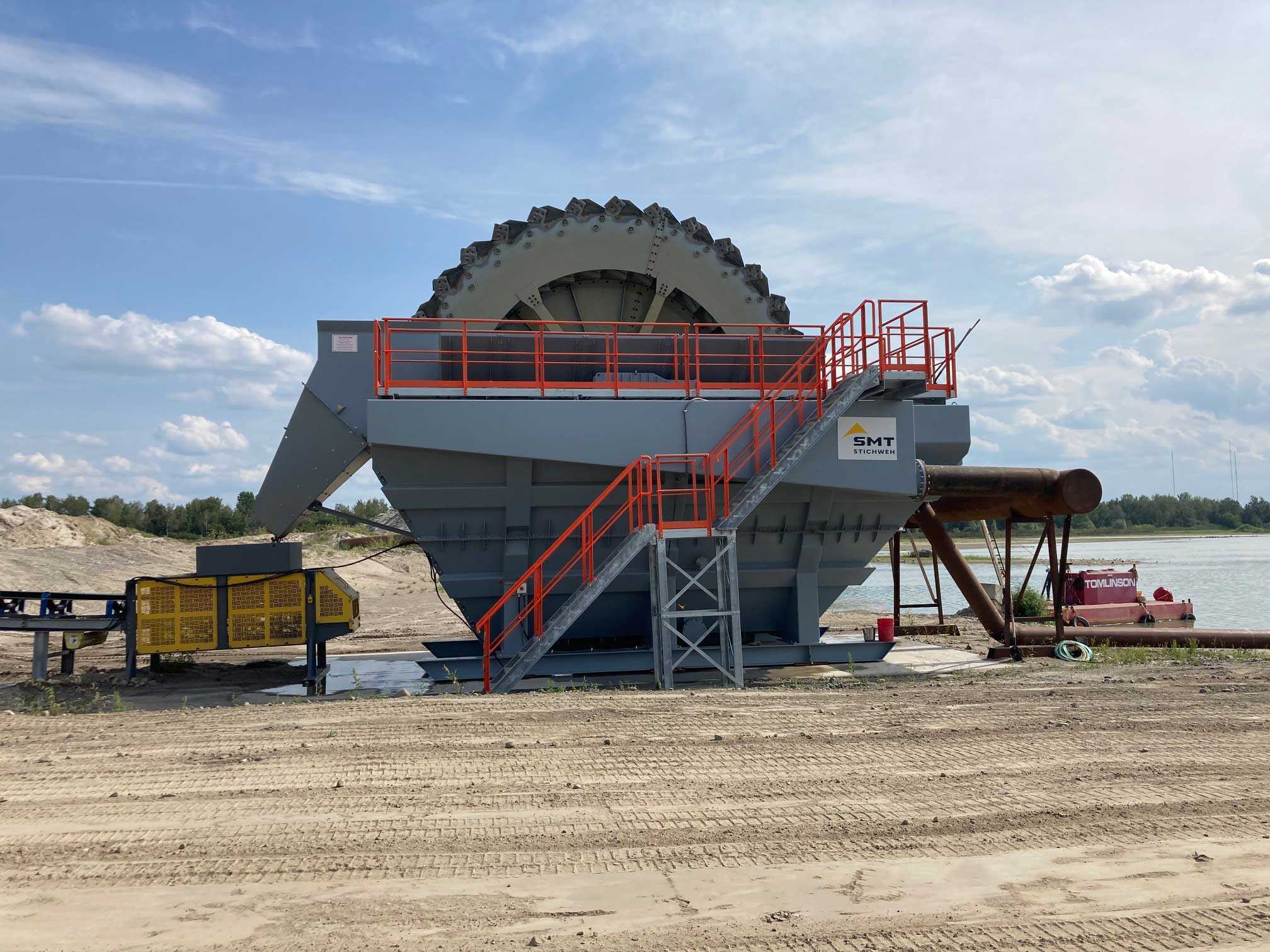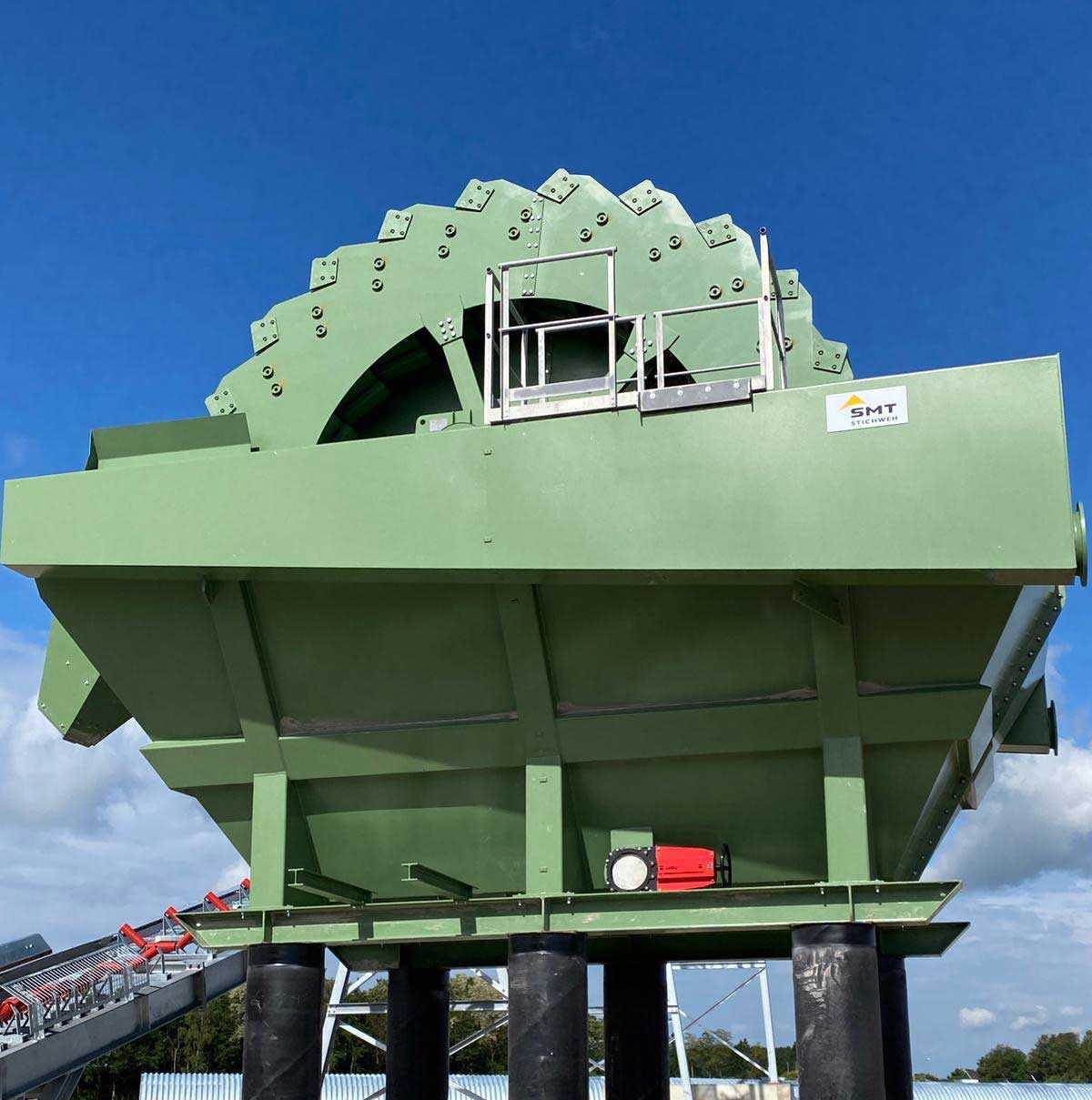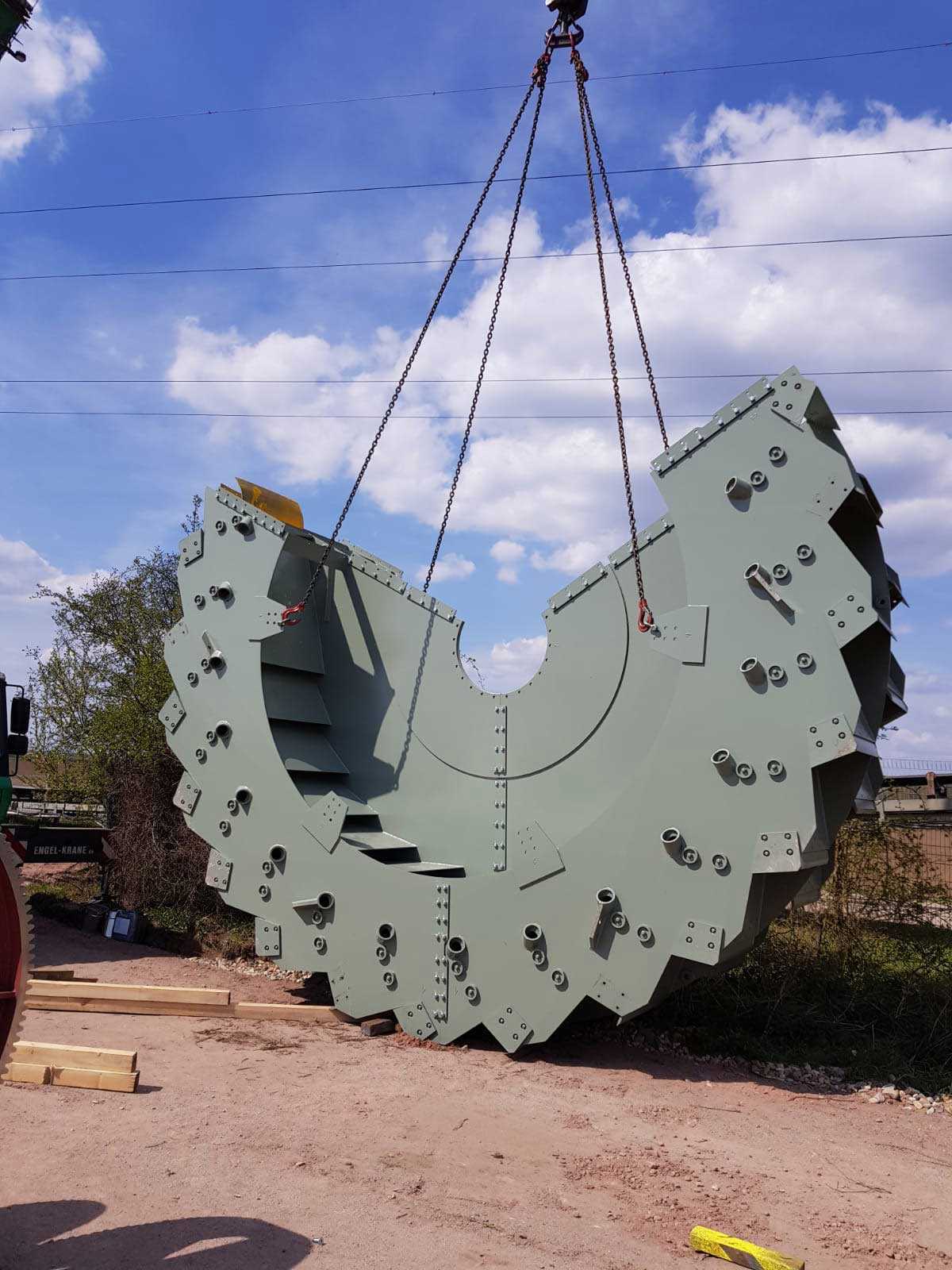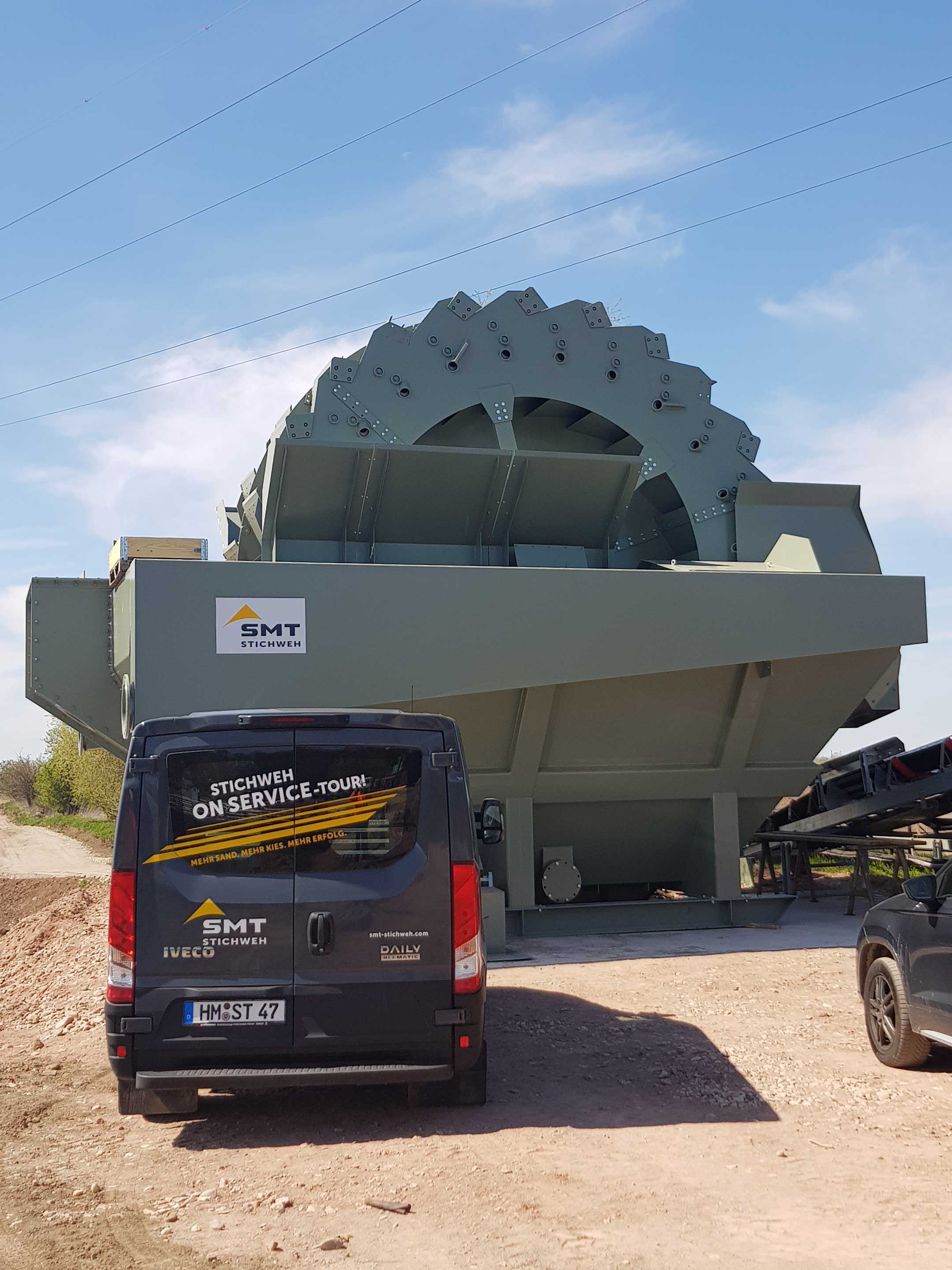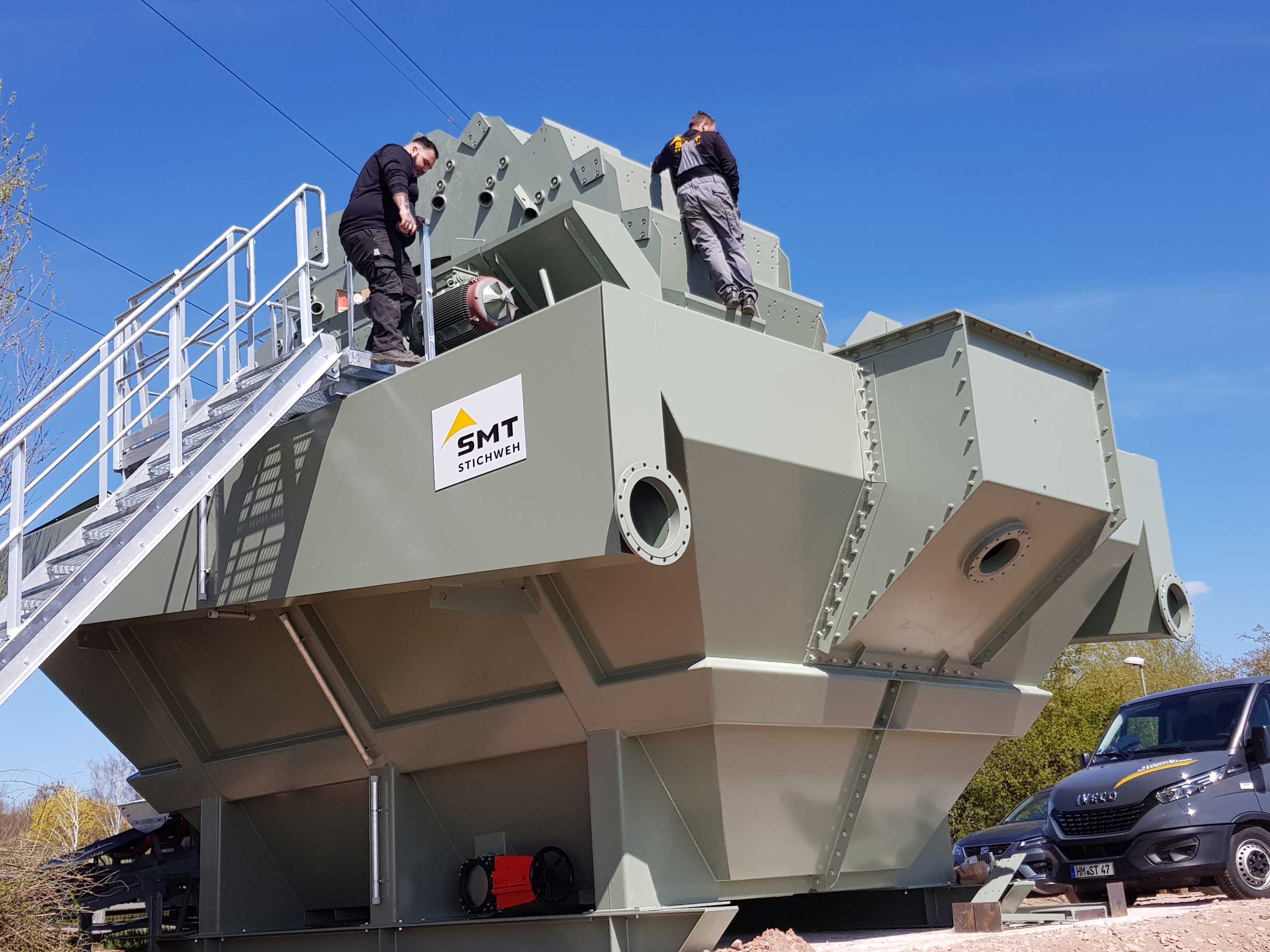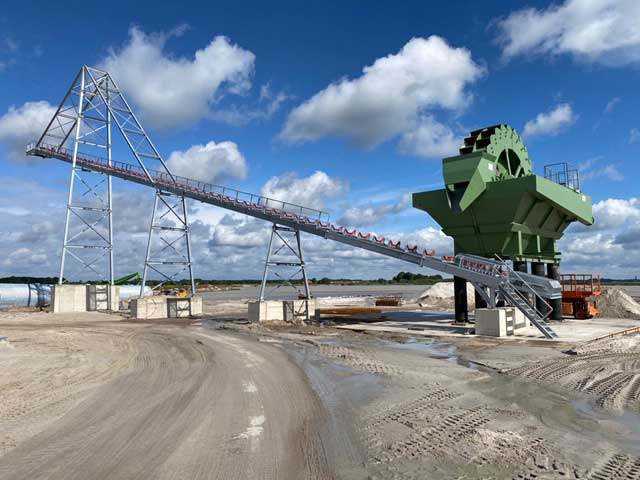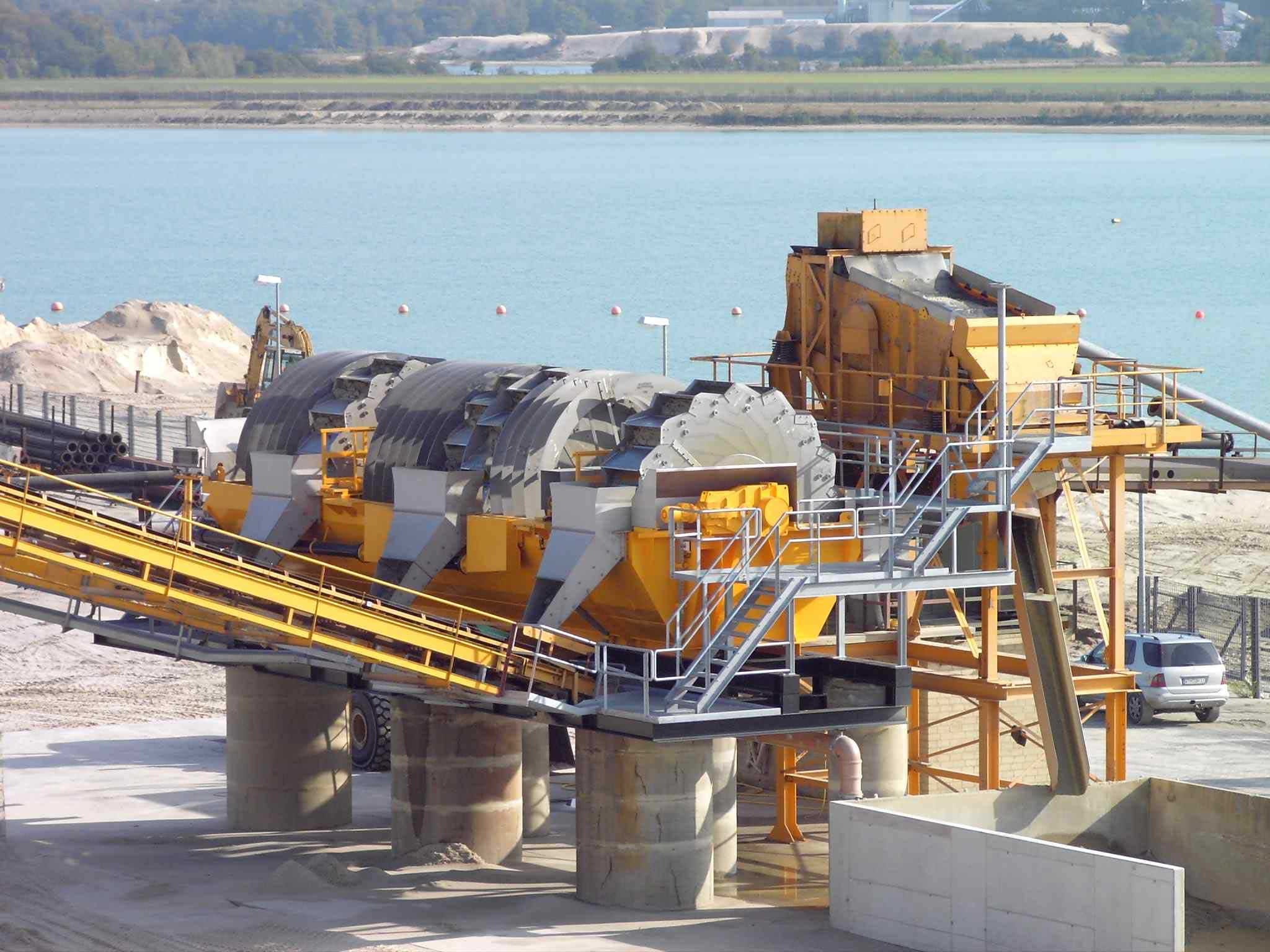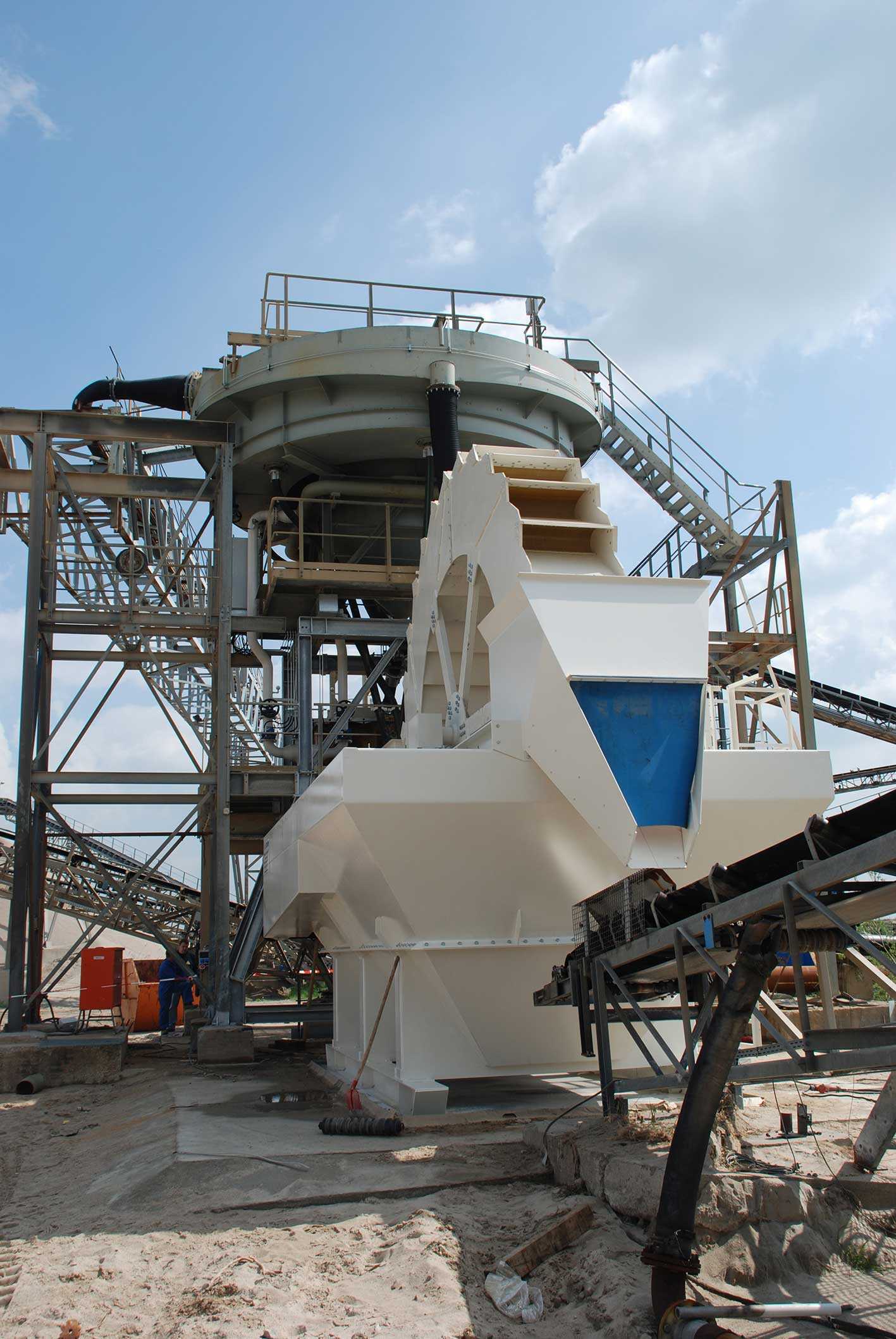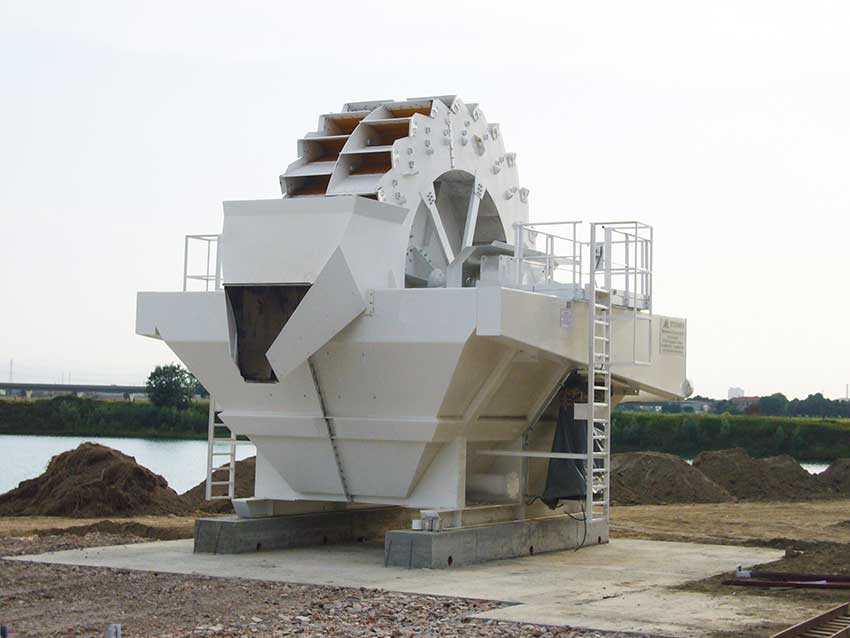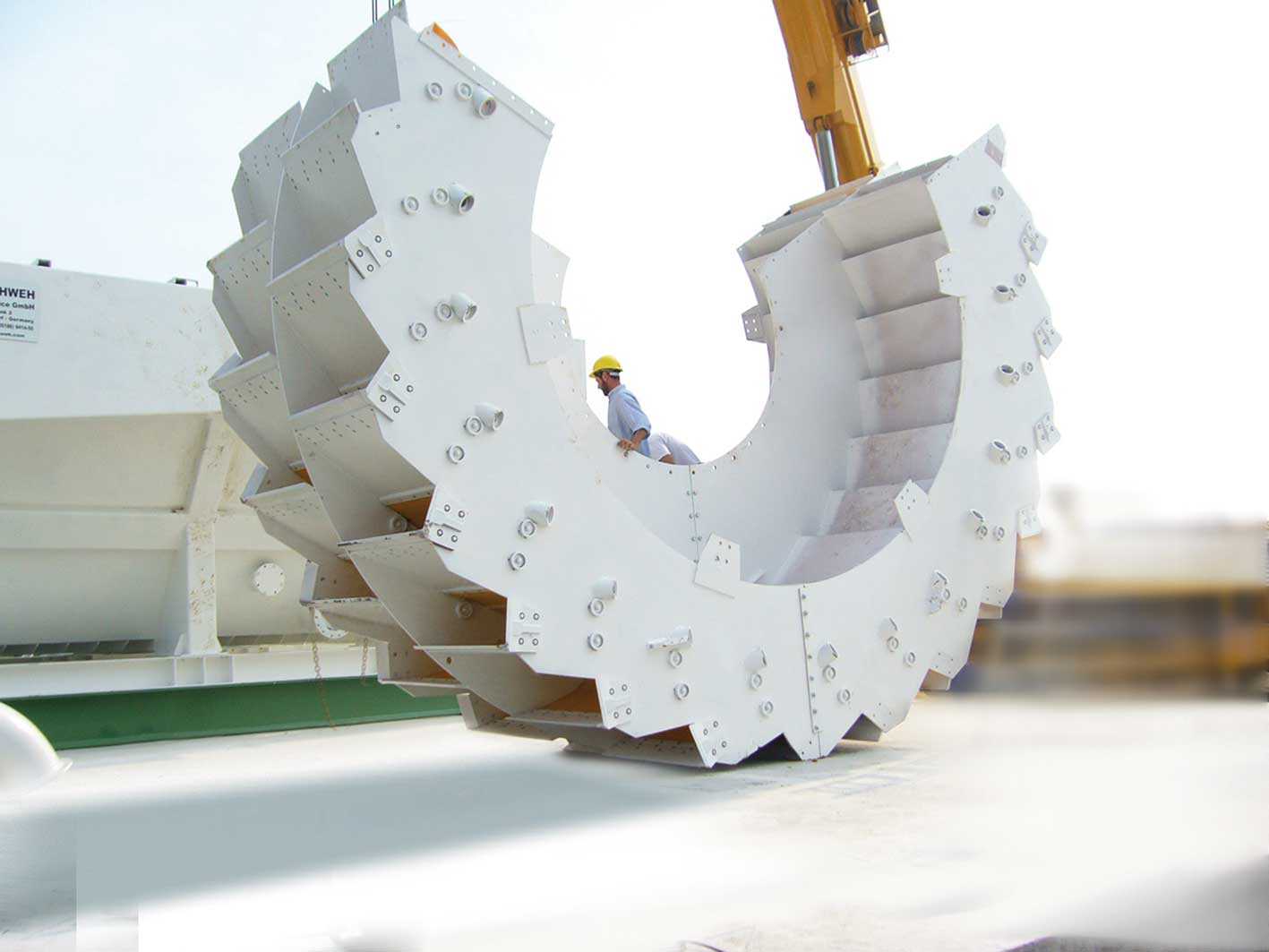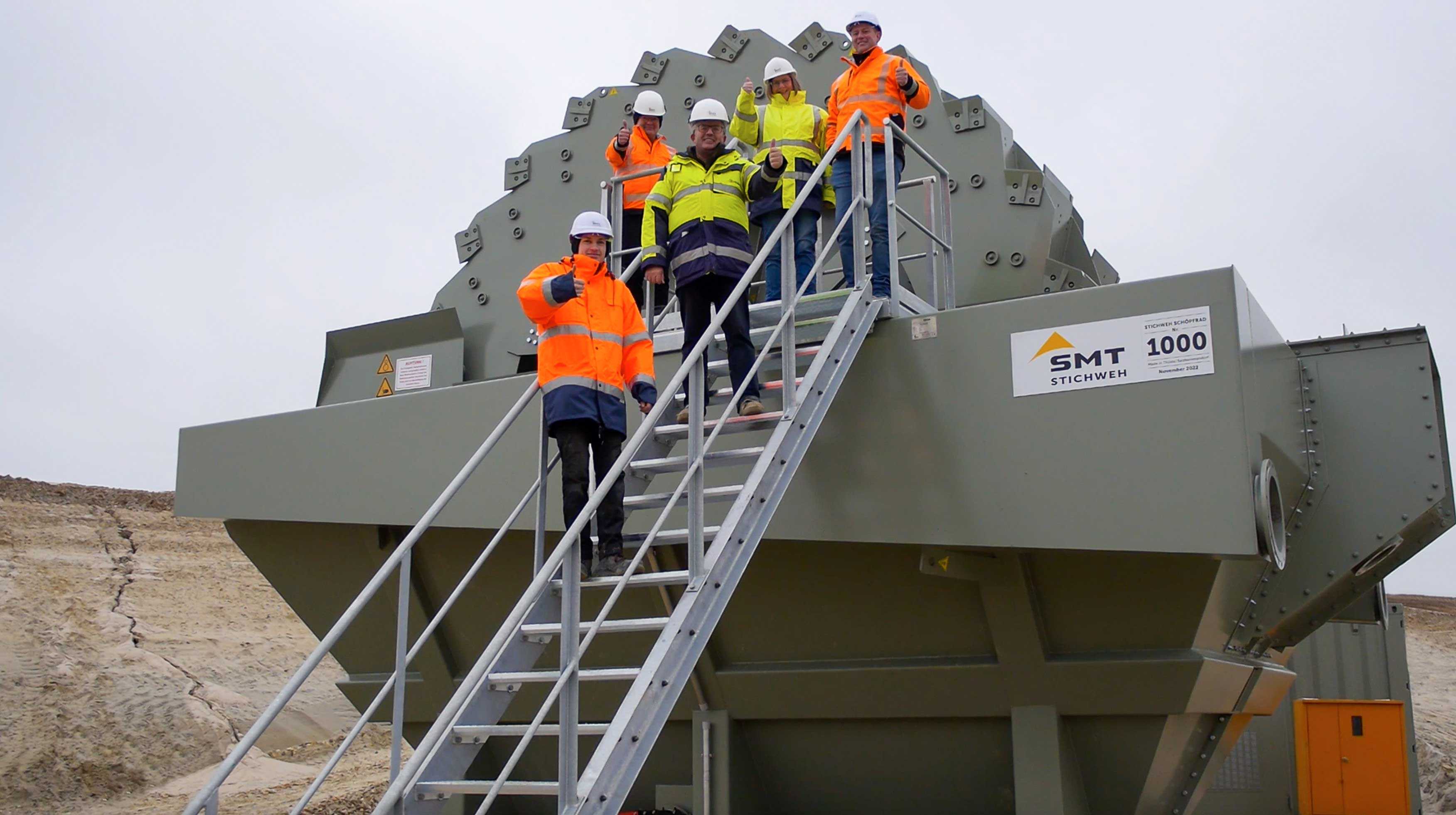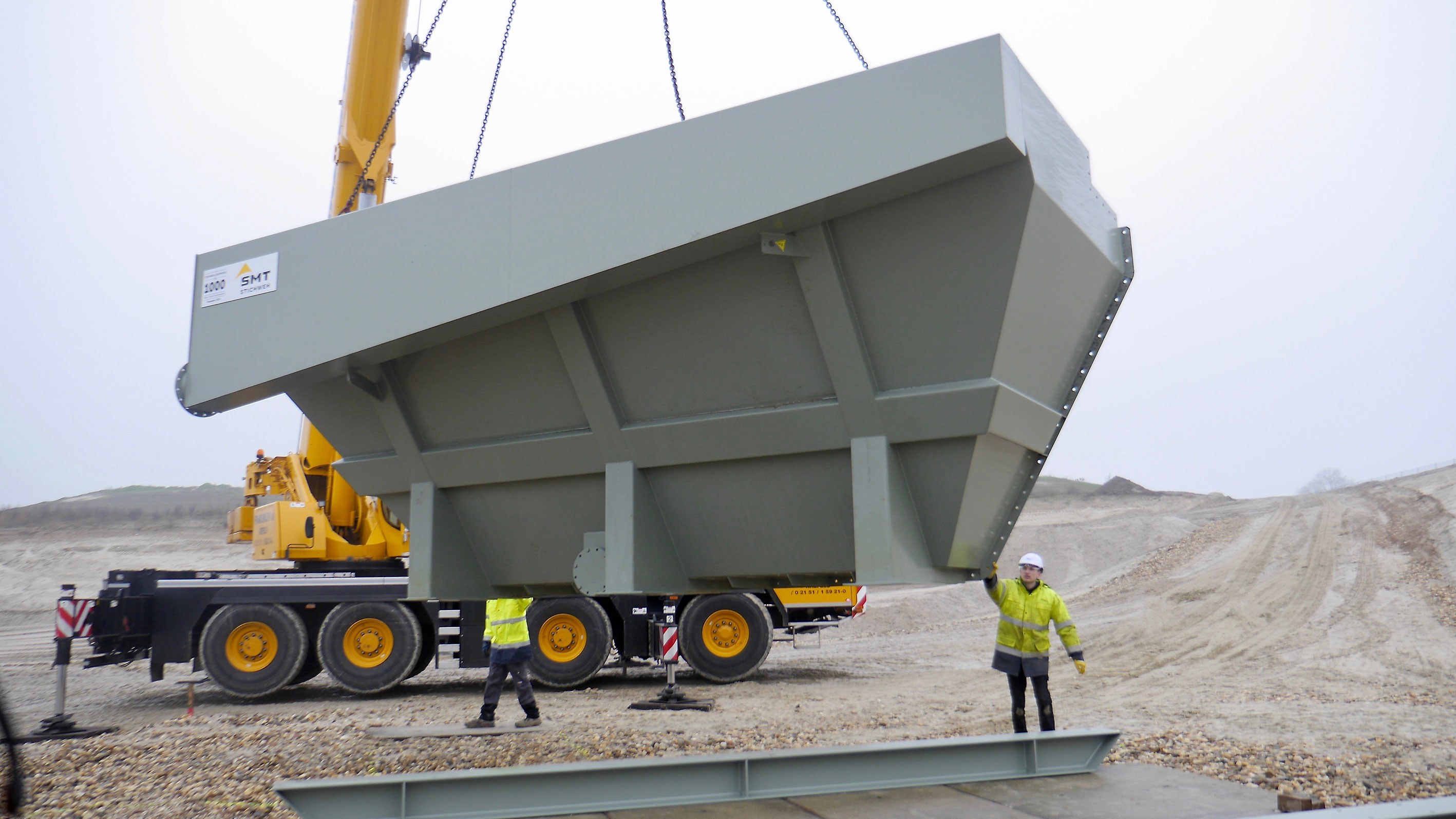 Classify perfectly
Our bucket wheel series are perfectly aligned to your project requirements and the most diverse operating conditions. Due to the different requirements and the geologically determined material conditions, we have specific bucket wheel solutions ready for different applications. Why can we do this? Because we are the inventors of the washing and dewatering bucket wheel.
Precisely designed
The feed mixture of sand, gravel and water is fed to the bucket wheel by a suction dredger, pneumatic dredger, floating grab or a processing plant. The solids settle in the bucket and are discharged by the bucket wheel. The bucket wheel buckets are equipped with special plastic screens with different gap widths. The extended suction chambers create a natural vacuum, which reduces the degree of dewatering to a minimum. A large number of adjustable overflow weirs are arranged in the trough. This makes it possible to extract fine sands or also to separate out unwanted fine sands.
Scoop wheel rows
Five different series are available for the various geologically determined material conditions and requirements: from simple gravel dewatering to fine sand washing, fine sand classification and fine sand recovery.
Our current scoop wheel programme
Series E
Innerhalb des Aufbereitungsprozesses sowie überwiegend für die Direktbeschickung durch Saugbagger mit einer Gemischleistung bis zu 5.000 m³/h und einer Feststoffmenge bis zu 1.000 m³/h. z.B. Schöpfrad 2 x E 6518 H Raddurchmesser 6.500 mm, Radbreite 2 x 900 mm, Leistung à 500 m³/h.
Series ES ... BB
Sandrückgewinnung innerhalb einer Aufbereitungsanlage, wenn dabei auch optimale Feinsand-Rückgewinnung gewünscht ist. z.B. Schöpfrad ES 5014 BB Raddurchmesser 5.000 mm, Radbreite 2 x 700 mm, Leistung 250 t/h Sand.
Series ES ... BL
Sandrückgewinnung, wenn jeder Feinsandverlust vermieden werden soll.
Sie entsprechen in der Wannenbreite den Feinsandschöpfrädern und unterscheiden sich nur durch das größere Bechervolumen und den stärkeren Antrieb.
z.B. Schöpfrad ES 5014 BL 100 Raddurchmesser 5.000 mm, Radbreite 1.400 mm, Wannenmaße 5.200 x 10.000 mm.
FS ... BL series
Für die Feinsandrückgewinnung. Sie zeichnen sich durch eine große Beruhigungsfläche und geringe Drehzahl aus.
z.B. Schöpfrad FS 2707 BL 58 Raddurchmesser 2.700 mm, Radbreite 700 mm, Wannenmaße 2.800 x 5.800 mm.
DSD ... BL and 3S ... BL series
Zum Intensivwaschen, Klassieren, Entwässern von stark verschmutztem Sand:
Mit computergesteuerter Sanddosierung zur Herstellung von 2 bzw. 3 unterschiedlichen Sandfraktionen.
z.B. Schöpfrad DS 2709/07 BL 100 mit Doppelantrieb.